Are you looking for a guide on how to clean hot stones after a massage? We'll help you get the best answer with this article.
A hot stone massage is a type of therapy in which hot stones are placed over different body parts. The stones are flattened and smooth. Often seen as made of basalt, the rocks usually keep heat. We'll discuss how to clean hot stones after a massage.
These stones are heated between 130 to 145 degrees. The hot stone massage is done using some of the Swedish massage techniques like kneading, tapping, and circular movements are usually preferred. Your massage therapist might also use cold stones to help soothe your skin.
Heat, if appropriately used, tends to decrease excruciating pain of the affected muscles. By increasing blood flow to the affected muscles, it increases flexibility. Cold stones are known for relieving sore muscles. Also, the cold rocks help your muscle tissue relax.
Why Is It Necessary To Clean The Stones?
Hot massage therapy has been quite popular in recent years. People enjoy the total experience for pleasant relaxation. It helps the sore muscles relax better.
Most physicians recommend massage therapy to patients with severe and critical injuries. The massage therapies also calm people who are suffering from anxiety and depression.
Unfortunately, people often disregard the necessity of cleaning stones. The bacterial layer of dirty stones ends up infecting people with various bacteria. It leads to severe infection of the skin.
How to Clean Host Stones Before Massage?
If you are a professional massage therapist, you should clean your stones twice before and after a massage.
The new hot stones should be soaked in cold soap water. After washing them, use a brush to clean off the dirt it might carry around. Then rinse it again.
Also, if the stones seem unhygienic, soak them in a diluted vinegar solution. These stones are sometimes covered in bacteria as well. Therefore, keep them soaked in the diluted vinegar solution for a night. They will look shiny and clean the next morning.
The bacteria-covered stones sometimes take more than a couple of days to be cleansed. There is nothing to worry about if it takes more than a couple of days. You can apply coconut oil onto the stones to keep them smooth. You can also polish them with a rock polisher. Don't put too much coconut oil, as it might get too slippery to hold with your hands.
3 Ways of Heating Massage Stones
There are many methods to heat the massage stones. We list some useful options below:
Massage Stone Heaters: Mostly, professionals are seen to use massage stone heaters or stone warmers. These heaters are specially made for heating massage stones. So why not use one of them? You can place a set of stones in them and set up the digital temperature system there. After a short amount of time, the stones will be ready for massage. Massage stone heaters are pretty standard these days for their user-friendly technology. However, this is not the only way to go.
Slow Cookers: Some people prefer to use a slow cooker because of its small size. They are not too expensive, which is why they draw the attention of people. But due to its limitation of temperature settings, it's not recommendable. As it doesn't maintain a constant temperature all the time, people don't want to use them for this purpose. Its small size doesn't allow it to heat more than a few stones at a time.
Electric Fry Pans: You might be wondering why electric fry pans? Well, when there are no other options available, this method might be worth a try. A few people try to use electric pans because of their comfort. But electric pans don't allow the stones to heat correctly. The water used in this heating evaporates quicker than other options, keeping the stones hot. As a result, this method ends up being very uncomfortable.
How to Massage with Hot Stones?
Since we have discussed the methods that you can use for cleaning. Now let's dive into the procedure as well. You can also do it at home if you like!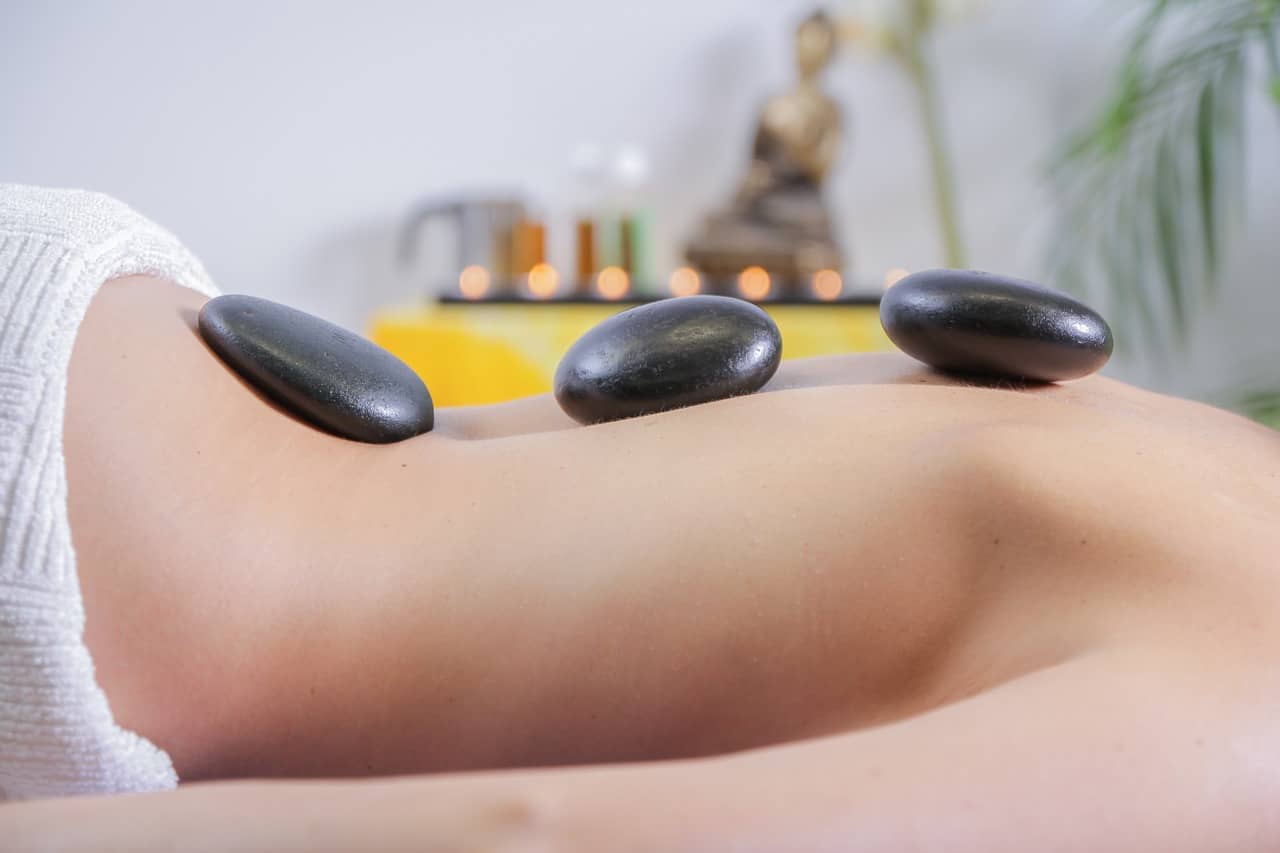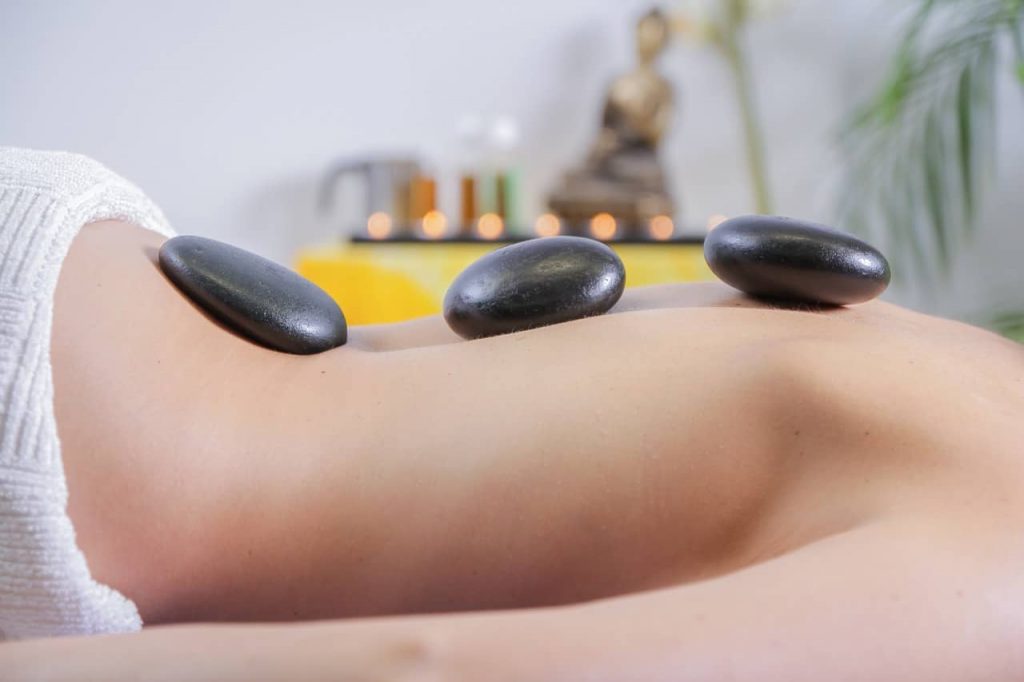 Lie down: Make sure you are relaxed. Now, if you are ready, lie on your stomach. It's better if there is someone with you throughout the process to help you. Place the stones lined up on both sides of your spine. You can do it each side at a time too. Also, place the massage stones and leave them to cool down. It's better to have a companion who can rub the parts that need gentle massaging.
Apply Massage Oil: Massage oils make you feel pretty relaxed when applied. You can also choose to have a dry massage with only the stones. People use essential oil of different flavors. It would be best if you chose based on your taste. Essential oils evaporate pretty fast, but some oils can also turn rancid. Before you choose the flavor, make sure it's the right one.
Simple Guide on How to Clean Hot Stones After Massage
Be sure to clean the massage stones after the massage. Whether or not you use oil, the dead cells of your skin stick to the surface of the rocks. Therefore, clean the stones by soaking them in lukewarm or hot water.
Wash them off with a bar of antibacterial soap for the removal of bacteria. The set of stones will last for years if they are cleaned both before and after the massage.
Professionals always try to clean them both before and after the therapy. That way, the entire process remains hygienic.
Bottom Line
Professionals try to maintain the hygiene of the stones for a lasting, pleasant experience. These issues are being questioned as a gesture of public awareness.
Now that you know how to clean hot stones after a massage, you can raise awareness to family and friends. Hope you had a fun read and can use the information on your next massage therapy. Keep calm and be relaxed!