Finding a great massage chair can be tricky. You should find one that will make you feel better. This article will introduce you to some of the top Korean brands of massage chairs.
Buying a Korean brand of massage chair can be difficult. There are many types, features, prices, and more. But don't worry! I have listed the top two massage chair brands for you. So it will help make your decision a little easier.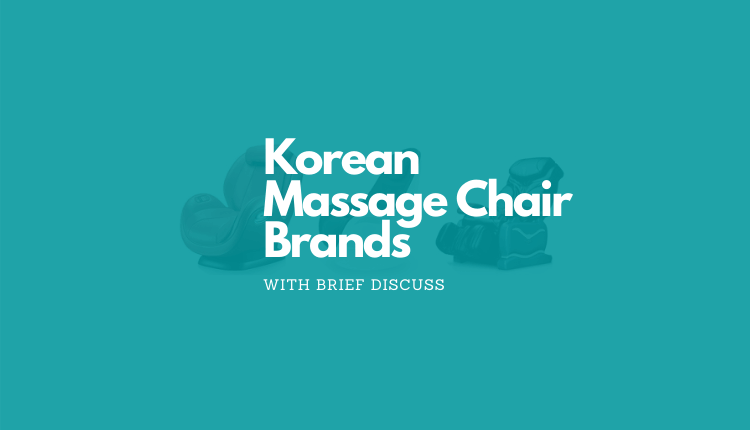 Korean Massage Chair Brands
1) Bodyfriend
Bodyfriend is a Korean massage chair brand that offers many types of massage chair models including electric, zero gravity, and other unique models (ranging from $1000-$12,000).
Bodyfriend Co., Ltd was established in 2007 to specialize in manufacturing beauty equipment and massage products. This subsidiary of S-Y Holdings Corporation specializes in the design, manufacture, and sale of massage chairs to help people relax.
The company is known for its strong research into what makes a great massage chair with its human engineering technology that gives fantastic flexibility and strength, not just in movement but also in durability.
They are famous for controlling all aspects of the manufacturing process, from design to assembly. In addition, their cutting-edge technology and expertise in creating beauty products for personal care and home improvement have enabled them to create a full range of highly functional and highly beautiful massage chairs.
Their mission is to make everybody feel relaxed and comfortable, by making the customer's needs their number one priority. The company has been striving to be an advanced corporation in both technology and aesthetics for the past several decades.
They are constantly working to improve their massage chairs in terms of technology, design, safety, and quality standards, in order to provide customers with the best massage chairs for their needs.
They offer a 1-year limited warranty on most parts for electric models. The warranty includes repairing or replacing the defective massage chair, even if it is caused by accident, misuse, or normal wear and tear.
However, the warranty does not apply to damage caused by commercial use (more than 8 hours per day).
What is their secret?
Bodyfriend's secret is the S-Y patented technology with a vibrating massage plate, which gives fantastic flexibility and strength.
This vibrating massage plate is the core of their human engineering technology; it enhances energy efficiency while improving durability to give you great results for years to come.
They are famous for controlling all aspects of the manufacturing process, from design to assembly. They do not allow any outsourcing or any other third party to be involved in the assembly of their products.
Also, they are the only company that has complete control over all production processes, including research and development, design, manufacturing, quality control, service, etc.
They own their body design patents for both inside-and outside-the-cover massage roller technology which allows you to enjoy a one-of-a-kind massage experience.
You can feel confident that your massage chairs are of the highest quality because they maintain razor-sharp attention to detail, even in relatively minor areas.
Customer Service:
Customer service reps are also known for being friendly, approachable, and willing to help. Their staff is bilingual (English & Chinese), with offices located around the world.
Top Model of Bodyfriend Brand:
2) LG
LG is a company that specializes in manufacturing electronics. The company was established in 1958 and has its headquarters in LG Twin Towers located in Yeouido-dong, Yeongdeungpo-gu, Seoul, South Korea.
The company's products include TV sets, monitors, refrigerators, washing machines, air conditioners, massage chairs, and others.
They have the most innovative models of massage chairs with features such as airbag velcro covers and foot massagers. This chair has four different types of backrests to choose from. They are for people who need a spinal alignment or lumbar support, or if they just want to relax.
Most of the models of massage chairs are made with fabrics, but some are made with real leather. When it comes to price ranges ($900-$24,000) make them perfect for just about everyone.
Moreover, the customer service is also very helpful and professional, so you can trust them.
What are the criteria to choose the best Korean massage chair brand?
Choosing the best massage chair brand is not an easy task. There are many brands in the market, and you must consider different criteria before selecting one or more models. It will be difficult to select at first glance because there may be some differences between the features of all these chairs with similar prices.
Below are the criteria to choose the best massage chair brand.
Check the warranty. The warranty should be at least one year or more.
Check the return policy and how long it has been in business. The company must have an excellent reputation for customer satisfaction to ensure the quality of their product.
Consider what you need from your massage chair before selecting a model. This will narrow down the models that are available and help decide easier when it comes time to select which features on each chair meet your needs!
Heavy-duty chairs are much longer than lightweight chairs because they are made of much more durable materials.
Massage chair buyers should also consider the dimensions and weight capacity.
You will want to consider how often you plan on using your massage chair as well, as this can determine what features you would like in order for it to be convenient for use within your home or office space.
If you want an excellent and longer-lasting massage experience, then buy electric massagers with as many settings as possible, including deep tissue massage modes, rolling kneading techniques, shiatsu therapy modes, etcetera, etc.
In conclusion, it is important to take a few considerations into mind before deciding to purchase a perfect Korean massage chair for your needs and lifestyle. So it is important to note that all Korean massage chairs are not equal.