I have heard this question many times. The truth is, there isn't a clear answer. However, the first thing is that there aren't any specific rules and regulations for this profession, so anyone can be a massage therapist!
But when you look at the healthcare system in the United States, massage therapists hold a very important role. They are professionals who work independently but are not doctors. They can diagnose problems, but cannot prescribe medicine.
In this post, I will cover the difference between a masseuse and a massage therapist. This way, those who are looking for a massage therapist or a masseuse will have a better understanding of what to expect.
Let's take a look at the definition between masseuses and massage therapists first.
Masseuse Vs Massage Therapist: Definition
Masseuse:
Some people tend to use these two expressions interchangeably, but they should not. The first term "masseuse" is French and has been used in the U.S. since the 1860s, usually described as a woman massage practitioner. 
A masseuse is someone who specializes in massage therapy but is not a certified professional. So they don't need to have any professional certification or licenses.
A masseuse is someone who provides general massages typically in salons, spas, or even on tables in some homes for an hourly fee.
A masseuse typically has training in providing massages via self-study or through a massage school.
Massage Therapist:
Whereas, a massage therapist is a person who has been trained in the art of massage and holds a license from their respective state to practice.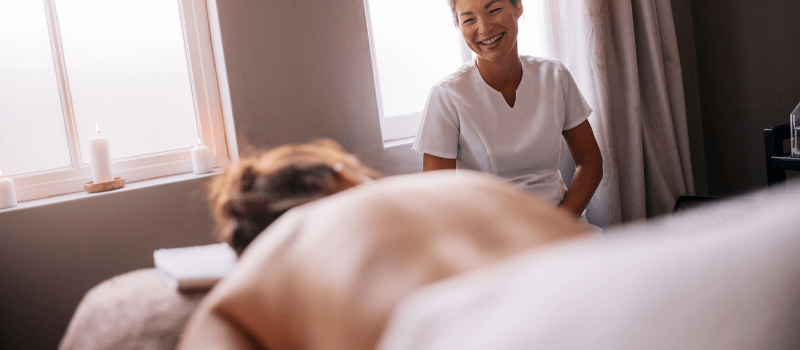 A massage therapist's training usually consists of many hours in anatomy and physiology, as well as the study and practice of proper technique and body mechanics. The few states that don't require a license for therapists may require certification.
A massage therapist provides their service for a fee. Some therapists work in spas and resorts where people go for special treatments and/or on the side as independent contractors (meaning they don't work for a specific spa or resort).
Massage therapists usually work on a fee-for-service basis, which means their clients are usually charged by the hour.
Masseuse Vs Massage Therapist: Types
Masseuse:
The types of the masseuse are as follows:
A mobile masseuse comes to the client's home, office, or other location for a massage session.
A masseuse that owns their own massage studio or spa can offer a variety of services.
A day spa masseuse provides massage services during "spa days" or visits to the spa.
Massage Therapist:
As opposed to a masseuse, massage therapists offer specific types of massages that are regulated by an ethical code and certain standards. There are different types of massage therapists who practice various modalities, such as:
Swedish Massage.
Neuromuscular Therapy (or trigger point release).
Shiatsu massage and more.
Masseuse Vs Massage Therapist: What to expect?
Masseuse:
As we already mentioned, a masseuse can provide various types of massages and they cost less than professional massages provided by a certified massage therapist.
An average massage session provided by a masseuse usually lasts up to an hour, but it may vary.
A masseuse should have a pre-consultation with the client to discuss their needs, preferences, and medical history.
If a masseuse is not a certified massage therapist, she/he should have knowledge of basic anatomy and physiology to be able to give a basic but effective massage session.
A masseuse may use a variety of techniques, from light to medium pressure depending on your preference and the type of massage they are providing.
A masseuse may not be able to answer specific questions regarding your condition but can direct you to someone who can.
Massage Therapist:
A massage session provided by a massage therapist usually lasts for 60 minutes and may cost more than a masseuse.
A massage therapist is required to complete a pre-consultation with the client where they discuss any past or present health conditions and issues.
A massage therapist can answer questions regarding your condition specifically and knows where to look for any possible concerns.
A massage therapist is required to have a working knowledge of human anatomy, including muscles, bones, tendons, and ligaments as well as nerves, circulation, and the effects of massage on these systems.
A massage therapist does not use oils or lotions for their massages due to health code restrictions.
If you're looking for a more therapeutic experience with a true professional, a massage therapist may be the best choice for you.
In addition to Swedish Massage, they can perform Neuromuscular Therapy (or trigger point release) and Sports Massage as well as many other types of massages.
Masseuse Vs Massage Therapist: Skill Level
Masseuse:
Skill level depends on what type of massage a masseuse is providing. For example, Sports Massage requires a higher level of skill and training than a regular deep tissue massage.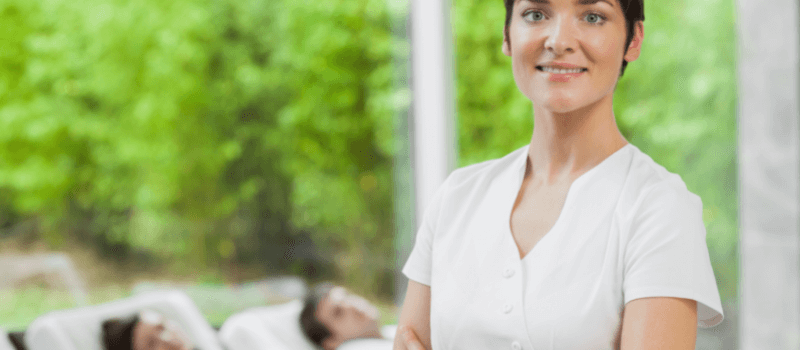 Also, skill level also depends on the school they attended and where they completed their education in terms of the subjects that were studied.
To become more experienced in a certain massage field, masseuses can take continuing education courses or workshops.
Massage Therapist:
A massage therapist should have extensive experience and practice for several years under the supervision of a doctor or chiropractor.
They may also be involved with teaching and studying massage through continuing education and enrolling in advanced courses and seminars.
In order to be licensed as a massage therapist, it is required to complete at least 500 hours of education and training with a minimum of 35 contact hours in Swedish Massage.
Moreover, the skill level of a massage therapist depends on the amount and type of training they received in terms of different types of massages.
They should also know how to combine various techniques during a session and choose appropriate ones depending on their needs and preferences.
Masseuse Vs Massage Therapist: Certification Requirements
Both masseuses and massage therapists are required to complete training by a certified school or licensed instructor.
Masseuses:
There are a variety of schools that teach the basics of different types of massage and techniques to become a masseuse.
Enrolling in school usually takes around a year to complete and the cost of education ranges from $1000 to $5000 depending on the program they choose.
An apprenticeship is also available for those who would like to experience the work without going back to school.
Massage Therapist:
In order to be a certified massage therapist, you must complete a 500-hour program at a reputable school. As stated before, a minimum of 35 contact hours in Swedish Massage is mandatory to obtain your license.
Those who have already completed a training course can apply for reciprocity if they have been licensed as a massage therapist in another state or country for over 3 years.
Masseuse Vs Massage Therapist: Specializations/Fields of Expertise
Both masseuses and massage therapists have specialties within their respective fields.
For example, sports massage therapists may focus more on athletic injuries and related treatments while a deep tissue masseuse focuses on massages that target the deeper layers of muscles.
A massage therapist's training and education consist of many different types of massages such as:
Holistic Massage: A type that treats the mind, body, and spirit.
Swedish Massage: The most common type, it is a gentle full-body treatment.
Neuromuscular Therapy: Treating pain through pressure on muscles.
Aroma Massage: Uses essential oils and massage techniques to improve skin, tone, and flexibility.
Sports Massage: Ideal for athletes or those who engage in rigorous activities.
Pregnancy Massage: Treats women during their pregnancy stages offering comfort through its different techniques.
I strongly recommend learning more about the types of massages and their benefits before looking for a massage therapist or masseuse.
Masseuse Vs Massage Therapist: Rewards and Career Outlook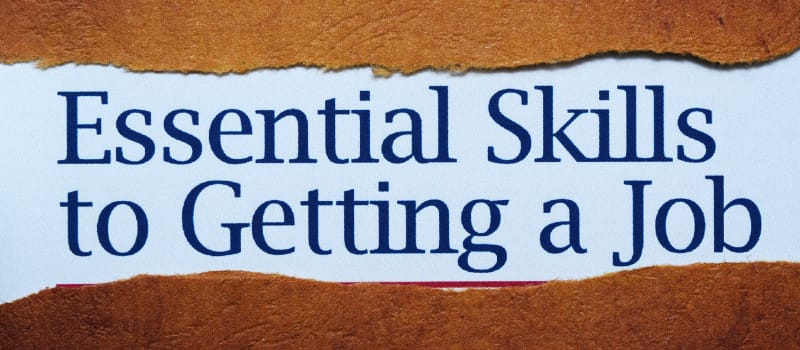 Masseuses:
A career as a masseuse serves mainly as a relaxing job that allows you to work at your own pace, set your own schedule, and work from home if you choose to do so.
So rewards of this career include not having to commute or deal with office politics. Instead, it involves mostly working on your own and usually at the comfort of your own home.
Also, a typical day does not usually consist of a fixed routine and there are no meetings or deadlines to meet.
However, a downside to this career that only a few find attractive is low pay.
In fact, most masseuses who work from home do not actually earn a salary and receive payment based on the number of clients they serve.
This is because they do not have to pay rent or other expenses such as taxes because they work from home.
On average, a masseuse can make anywhere from $10 to $100 per hour depending on how busy they are.
Massage Therapist:
A career as a massage therapist can be very rewarding and satisfying due to the increased demand for this service.
In fact, according to the US Bureau of Labor Statistics (BLS), there were 1,44,600 people who joined jobs as massage therapists in 2020.
The BLS expects occupations such as this one to increase by roughly 32% in 2020. Another report also showed that professionals in this occupation earned an average salary of $43,620 per year and $20.97 an hour in 2020.
This is not too bad for the average job market today so if you are looking to get involved with this industry, now might be a great time to start!
That said, working as a massage therapist is not always easy and there are downsides such as dealing with clients who can abuse your services or do not pay you for them.
Also, this career is very physical and can be hard on the body if you do massages often. So make sure to take breaks. You can use a massage chair, table, and other things to reduce your fatigue when you work for long hours every day.
Masseuse Vs Massage Therapist: Similarities
Besides the fact that both are involved with massages, there are other similarities between these two careers.
First, they both require certification so you must complete training to get licenses.
Second, both require you to practice good hygiene when giving massages so make sure to always use clean towels and wash your hands.
Third, both require you to learn about the human body so they can give the best recommendations or treatment plans for their clients. 
Fourth, a masseuse and a massage therapist usually have a finite number of skills that they have mastered through certification, study, and practice.
In Conclusion:
Overall, there are many rewards that you can get from becoming a massage therapist or masseuse. However, it is important to take the time to weigh your options so you can be sure you are making the right decision.
As mentioned before, this is not always an easy career, and there are many challenges that you may encounter along the way.
Therefore, it is up to you as a professional to choose how far you want to go in this industry.
Regardless of what you choose, be sure to find the right masseuse or massage therapist who can meet your needs and put your mind at ease.
---
References:
https://psychology.wikia.org/wiki/Massage_therapy
https://www.bls.gov/ooh/healthcare/massage-therapists.htm
https://www.careerexplorer.com/careers/massage-therapist/
https://www.nwhealth.edu/blog/how-to-become-a-massage-therapist/