Looking for the best answer of can I use a massage chair when pregnant? Or can a massage chair cause a miscarriage? To get the right answer, read this post-A-Z.
There's no better way to relax your body than having a massage. Having a good massage can be a superb job reducing any pain you might feel in your joints. And one invention that's commonly being used nowadays for massage is the massage chair instead of going to the massage therapists. But is using massage chairs during pregnancy advisable?
If you're pregnant, this is one question you must ask yourself before going ahead and buying a massage chair. And if you're looking for these answers, you've come to the right place.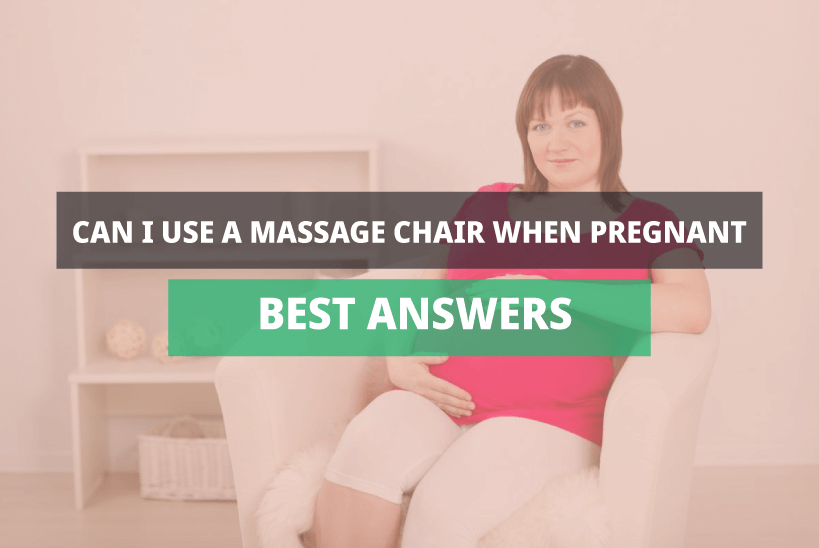 Are Massage Chairs Safe To Use During Pregnancy?
A growing number of pregnant women are using massage chairs for prenatal massage as it helps them relax. However, the use of massage chairs while pregnant isn't recommended since it results in certain complications. This is mostly caused because massage chairs feature a heating pad that can severely affect the child.
The heating pad does this by increasing your body temperature, which inputs your baby's wellbeing at risk. This happens because the increased body temperature leads to an increase in the baby's heart rate, resulting in cardiovascular complications.
Moreover, excessive heat results in hypothermia. Therefore, if you have to use the massage chair, it's best not to use any of its heating features.
Using a massage chair may also stress many pressure points in your body, resulting in premature labor. As a result, the massage chair's use might trigger the pressure points and cause severe complications.
Alternatives To Using The Massage Chair
Luckily, there are alternatives to using a massage chair should you feel hesitant about using it after seeking advice from a medical professional. Some of the viable alternatives include;
Yoga for pregnant women
Traditional massage Chiropractic therapies
Acupuncture sessions
Read: Chiropractor Vs Massage: What to choose?
With that said, each of these alternatives should always be carried out by a trained, certified, and licensed professional. However, these procedures are often a lot more expensive, and if they're over your budget, there are other options to relax even while at home. This includes
Listening to soothing music
Aromatherapy
Are There Benefits For Using A Massage Chair?
There are many risks associated with using a massage chair, but they're also a few benefits. Some of these benefits include;
Easing your back pain since it improves the flow of blood in your upper body, relieving cramps and pain.
Relieving any back and leg pain being caused by the pregnancy because of the uterus's growth, which needs a lot of space, thereby putting pressure on your body.
Reducing pressure points found across your body.
The massage chair's vibrations won't jerk your baby.
Lowering your anxiety and stress during pregnancy.
If you had any doubts, it's clear that there are benefits of a normal or portable massage chair.
Are There Scenarios Where Pregnant Women Should Completely Avoid Using Massage Chairs?
Pregnancy is very demanding, and during this time, the mother will have to deal with a roller-coaster of emotions. And because of this, there are specific health conditions and related concerns that make the use of the massage chair not advised unless after approval from a medical professional. Some of these scenarios include
If you're suffering from edema or extreme swelling.
If you're experiencing a severe headache.
If you're overweight and have a hard time fitting in the massage chair.
If you have preeclampsia.
If you have a history of miscarriage or premature labor.
Things To Consider Before You Use a Massage Chair
There are several things you need to have in mind before going ahead and using a massage chair. This includes
Not using a massage chair during your third trimester to prevent excessive pressure on the growing pregnancy.
Only spending between 15 to 20 minutes on the massage chair.
Avoiding the massage chair during your first trimester because your body is continually changing, so the likelihood of miscarriage is very high.
Avoid the massage chair if you're experiencing any health issues such as severe headaches, swelling, or a history of premature labor.
In Conclusion
Although the use of massage chairs while pregnant helps the body feel relaxed, they aren't at all times recommended. Besides, using a massage chair during pregnancy can cause miscarriage.
However, after reading this insightful guide, you're now well informed at the right time to use a massage chair as well as the benefits and risks associated with using it. If you're at risk of any complication, seeing massage therapists instead is advised to safeguard your wellbeing and that of your baby.