Our busy daily routine and poor posture put a lot of pressure on our bodies. After a restless and hectic day, everyone wants a soothing body massage. In that case, Ashiatsu massage technique is suitable for everyone. Although, it's different from other traditional massages, but has more benefits. So if you want to know "what is Ashiatsu massage", its benefits, how does it work, and more, you are in the right place.
Read: How Often Should You Get a Massage?
What is Ashiatsu Massage?
The word Ashiatsu comes from Japan and has been known for thousands of years. It refers to foot pressure, which is actually a barefoot massage technique. "Ashi'' means foot and "atsu'' means pressure. Ashiatsu massage therapy is a mixture of acupressure, shiatsu, and Swedish massage, which relaxes the body.
Now many therapists recommend Ashiatsu massage and place themselves on the client's body by holding a bar from the ceiling. That's why this massage is known as Ashiatsu oriental bar therapy.
For applying proper pressure on the body, the therapists use the bar to balance themselves while massaging. They provide pressure specifically at the accurate point of the body.
This massage therapy includes various forms of massage techniques, such as deep tissue, trigger point, hot stone massage, Thai massage, and more. Sometimes oil, cream, or lotion are applied to the body in the massage session. This technique helps to release further muscle tensions and provides a more satisfying massage session.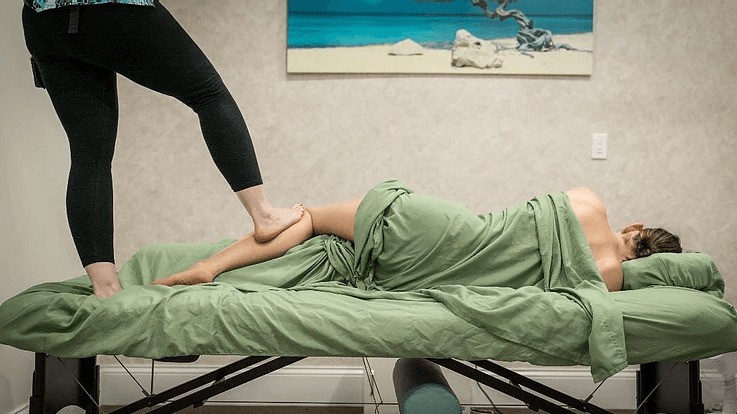 To know more about "what is Ashiatsu massage" keep reading full post.
Read: How to Prepare for A Massage? Best Practice For You
How Does Ashiatsu Massage Work Good?
To know more about what is Ashiatsu massage, know-how Ashiatsu massage works. While this massaging, the therapists use their feet instead of hands. At first, the client has to be laid over keeping face down on a stable and strong massage table. Then the client has to take off their clothes up to their comfort level. But it's better to take off clothes top or bottom of the therapy place to get better massage therapy at your back, arms, and legs.
The therapists will provide gravitational force to the client's body by holding on to the bars from the ceiling. But it's never advised to walk on the body. If you get the right amount of pressure, you will feel relax. All types of massage stroke promote relaxation. The gliding strokes allow you to move faster with perfect positioning.
It also relieves muscle tensions through deep tissue massage techniques. The effects have been excellent.
What Equipment Needs for Ashiatsu Massage?
Ashiatsu massage therapy is different from other traditional massages. The rule is to provide pressure on barefoot. The client will lie down over a table, and the therapist will gradually put leg pressure on the client's body.
So you need a strong massage table. You have to be concerned about the height of the table that should adjust with the right distance from the ceiling, and finally, the table must be sturdy, stable, and solid.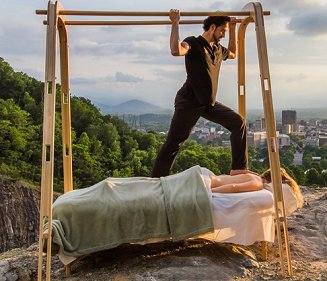 Also, there need at least two bars in the ceiling. Some therapists need over two bars to force pressure comfortably on the client's body. Since it's a barefoot massage, the feet must be clean, soft, and hygienic as they are the key components. In case, the nails should be shortened.
Besides, other minor things are needed, such as a pleasant set of sheets for the massage table and for the clients covering themselves. You may need a warming pad in case the client prefers a comfortable headrest. You should be more careful about a range of motion, high range motion sometimes creates complications.  
Benefits of Ashiatsu Massage
Ashiatsu massage refers to deep tissue massage, which targets the inner layer of muscles. The massage is used to treat muscles and tendons' pain, injuries, and stiffness in muscle groups and joints. Here some benefits of Ashiatsu are listed below:
Less pain: Ashiatsu works more conveniently than traditional massage. Elbows and thumbs may feel sharp and a little comfortable. Besides, the therapist doesn't need too much effort to this massage.
Deep tissue without discomfort: If the clients need a massage, but feel discomfort with an elbow and thumbs massage, then barefoot massage therapy is the best treatment for them. This massage enables you to provide accurate pressure to your soft tissue rather than traditional hand-on treatments.
Improve flexibility: Ashiatsu solves stretch ligaments. This massage helps you recover from your past injuries and improve flexibility.
Reduce Chronic pain: Deep tissue massage has enormous benefits and effective for reducing pain. But Ashiatsu massage relieves muscle tendons and stimulates circulation, even it reduce the inflammations of the body.
Reduce stresses: This type of massage takes you to a different dimension, one of them is a deeper state of relaxation. Due to this massage therapy, cortisol level gets reduced, may lower heart rate and you may experience calm.
Long-lasting effects: The effects of Ashiatsu massage are last longer compared to other massages. The deep Ashiatsu massage stimulates blood circulation and both the lymphatic system and the parasympathetic system.
Diffrience Between Ashiatsu Massage and Other Traditional Massages
In an Ashiatsu massage, the therapists usually provide more deep pressure than other traditional massages to release tensions in muscles. People who suffer from arthritis, digestive issues, joint and back pain, migraines are found to be more beneficial for this massage.
Rather than depend on hands or arms strength, the therapists will use their feet to put pressure on the therapy place. Many massage therapists suggest Ashiatsu massage therapy rather than other massages.
Contraindications of Ashiatsu Massage
Although Ashiatsu barefoot massage is known for soothing and relieving chronic back and hip pain, it may not be advisable for everyone as it has some risks and contradictions.
Women with pregnancy or those who are trying to conceive.
If there are any fractures.
People who are recently injured.
Anybody who just had gone through surgery.
If the skin is sensitive.
Acute immune disorder.
Patients who have diabetes, liver, or kidney disease.
Those who have high blood pressure.
By understanding the client's condition, a massage therapist should start the massage sessions. Before going for a massage session, let your therapist know about your medical history. Above listed people should avoid Ashiatsu massage.
Conclusion of Ashiatsu Massage
Ashiatsu is a technique of massage therapy that is applied by barefoot. The massage therapists can safely use their feet to provide you relaxation if they would train accurately. Other ingredients are oil, cream, or lotions are applied to the body before starting a massage session.
For blood circulation, loosen muscle tensions, relieving chronic pain, this massage therapy works tremendously. Additionally, this massage helps clients to reduce stress. We all know, now stress is becoming a society killer.
So finally you have gathered the best idea about Ashiatsu massage, its benefits, how does it work, contraindications, and more related points.