Four-hand massage is an ancient form of healing. It has been practiced for thousands of years all over the world, and it can be used to help relieve stress, boost immunity and promote relaxation.
This massage technique is usually performed by two people simultaneously, with one person performing the hands-on treatment while the other does light work on stretching out tight muscles.
In this article, I'll explore what 4 hand massage is and why it's so special!
Read: What Is 3d Massage Chair? Everything Explained!
What is 4 hand massage?
4 hand massage is a simple technique to apply pressure with both hands simultaneously on specific points of the body. It's easy to learn and once mastered, you can use it with one or more partners.
4 hand massage is actually an exercise to build up the strength in your hands and fingers so you can cure the most common tension and pain in your fingers, hands, forearms, and even elbows.
However, it gives very exclusive and most pleasant memories. This kind of massage is one of the best full-body massages I've ever found.
4 hand massage was used as the privilege service for the most prominent guests in the most prestigious spas.
Today, more and more establishments are striving to include it. A well-done four-handed massage is one of the best natural ways to prevent the signs of stress.
4 Hand massage techniques and its effect on the body
The massage is carried out by the massage therapists, by following all the rules of 4-hand massage.
However, it means that their works are harmonized with each other, rather than chaotic. The therapists work by using different massage techniques than the regular ones.
At the end of the procedure, you'll feel a burst of energy and improve your general condition. Besides, you'll also gain a positive effect on the lymphatic system.
The effect is achieved by many smooth pressing movements of the therapists all over the body. In the end, you'll be able to establish blood circulation and the outflow of excess moisture.
Below are 6 techniques of 4 hand massage:
1) Effleurage (gliding): This technique is the most common and works just well for the 4 hand massage. It is an ideal choice for beginners, as it needs less strength and more accuracy.
2) Petrissage (kneading): It is one of the most powerful techniques and it is used by advanced therapists. It requires high knowledge and skills, so it can be applied only with great caution.
3) Frictions: It is a basic technique, which has the primary goal to improve blood circulation. In this procedure, therapists do small circular movements.
4) Percussion: The technique is another powerful method, which is used for removing blockages in the energy channels. It requires accuracy and knowledge, so it is recommended for professional therapists only.
5) Pinching: The last technique works with a high degree of pressure and it is used for releasing tension in the skin. Its purpose is to reduce the "puffiness effect".
The technique is used in many spas and provides great results. It can be applied by both, beginners and advanced therapists.
6) Compression: Compression is one of the most popular techniques for 4 hand massage, as it increases blood circulation and relieves tension.
It is recommended mostly for athletes, who are constantly exposed to high pressure in their everyday activities.
All of the techniques can be used for both women and men. However, 4 hand massages can be applied on some very sensitive areas of the body or even around fractures. In such cases, the therapists should be very careful.
As you can see, 4 hand massage technique is not so easy to learn and requires many skills. So, the therapists have to take a good training course in order to master all of these techniques.
If you decide to visit a spa and try it out, make sure you choose a reputable place. The massage is not that cheap and it requires professionals, who have the knowledge and experience.
Why would you need a four-handed massage?
The need to achieve a rapid effect in conditions of limited time.
To get relief from constant stress, anxiety, sleep problems.
To remove pain in the joints or back.
This massage is a proven remedy for fighting excessive weight gain.
To get rid of chronic fatigue, lethargy, and so on.
Benefits of 4 Hand Massage
There are plenty of benefits to four-handed massage therapy. Due to its vast benefits, it has become very popular worldwide. The benefits may be stated as follows-
It provides a relaxing, calming, and restorative effect on the nervous system.
4 hand masssage recovers stress and prevents diseases associated with constant nervous tension.
It strengthens the functions of the immune system and adjusts the body's self-regulation mechanisms.
This massage also relieves emotional tension, and provides painful feelings in the body.
It makes the body more obedient, flexible, and light.
Furthermore, it stimulates the removal of toxins.
It also helps to increase joint mobility.
It develops sensuality and sensitivity and releases hidden resources of the body.
Besides, it gives harmony, increases vitality, and improves overall health. Even after one treatment, you will have a restful sleep and a positive emotional state.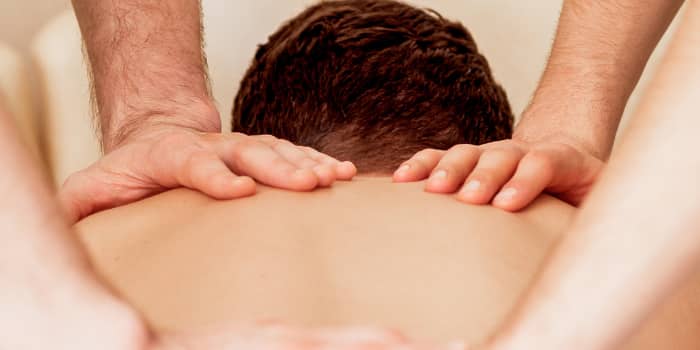 Who needs a four-handed massage?
4-hand massage is a universal procedure, which has no known side effects. Thus, almost everybody can have this special massage. But before starting a massage session, you have to discuss your health conditions with a massage therapist.
Only then, they can warn you about chronic diseases and side effects of massage that you may need to face after the massage. However, it's the utmost duty of the massage therapists' to provide you a useful and safe massage.
Supplementing with flotation: Floating (an innovative method of deep relaxation in a special float pool) and massaging both reinforce each other's benefits.
A 4-handed massage will relax you and prepare for a dip in the float pool. Thus it'll help you achieve the most relaxation. And you'll be able to recover on both physical and psycho-emotional levels.
A short massage on the neck, shoulder, and back area is similar to deep breathing. It gives you vital energy for a 4-hand massage in the float pool.
Floating is a method of deep relaxation in a special float pool filled with saltwater that's body temperature.
There are no waves, sun, or people that would disturb your peace. You can able to switch off the outside world and focus only on yourself.
Also, floating gives you possibilities to soften muscle tension, increase your mental freshness, and enhance your state of well-being.
How much does a 4 hand massage cost?
This is a good question, and the answer is what you might expect: it depends. Everyone's physical condition and medical history is different, so there's no one-size-fits-all approach to massage, regardless of how it's given (single-hand, two hands, four hands).
Moreover, 4-hand massage is a universal procedure, which has no known side effects. Thus, almost everybody can have this special massage.
But before starting a massage session, you have to discuss your health conditions with a massage therapist. Only then they can warn you about chronic diseases and side effects of massage that you may need to face after the massage.
Cost of a 4 handed massage
A 4 hand massage means two people or therapists rubbing you at the same time. That means it's double the cost of a regular massage. Either they will rub your body parts, or massage your upper parts while the other will do the legs.
A normal massage costs $50 to $100 per hour, depending on the place. Thus, you'll need around $120 to $200 to get the job done.
Final Thoughts
Having a regular or normal massage once or twice a week gives you a state of relaxation. Imagine what a 4 hand massage will do to you then. But always keep in mind that you have to pay almost double. Get the Massage once or twice a month, you'll be fine as heaven.